Apr 12
20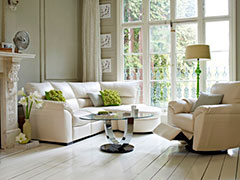 If you yearn for a welcoming home environment, yet it doesn't feel like it, there are ways you can make it more cosy, by changing the décor that you use in the rooms.
Colour is really important; if you have white walls and white carpets the room can have a clean, cool feeling but it can also be a little clinical. It's also a bit of a gamble choosing such a light colour if you have children living in your home!
For a cosier ambience in the living room it might be more appropriate to choose warm tones like yellows, oranges and light browns. Like the glow of a fire, these colours can bring warmth to a room, and make it feel like a welcoming space for the family to come to at the end of a busy day.
Whether you choose to put the colour in the furniture or on the walls and flooring is up to you. There are some things to be said for having the colour on the walls, as it's easy to change the paintwork; it only takes a couple of hours to repaint a room. And furniture is a lot more expensive to replace than buying a pot of paint.
In the shops today, there are some great sofa colours available and some really great patterns available too. Choosing a strong colour or pattern can make a real statement in your living room – it can create a much more interesting look than picking a plain neutral tone.
Other items that could add warmth to the room are display cabinets made of wood rather than the more modern looking ones that are finished in white or black.
If you want to get some great inspiration for how to add warmth to your home through decoration and furnishing, have a look at home design magazines and go to your local furniture store where there are plenty of room sets laid out to give you some great ideas.
---